Motorbike Rentals in Litomysl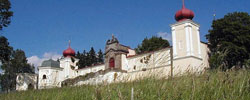 There is only one operating company that rents bikes in the entire Czech Republic! The motorbikes' renting company is based in Prague and offers a wonderful selection of road bikes, sport bikes as well as choppers. We have got a number of very satisfied bike-riders thanking us for such a great service and high quality bikes, of course.
The bike rental starts and ends in Prague only. The renting period and mileage is unlimited. The bikes are in a perfect condition, no more than two years old! Also, you may rent a helmet, side-bags, or buy a jacket, a pair of trousers or boots of known trademarks on the spot.
Unfortunately in Litomysl there is no bike rental service, but if you land in Prague nothing can stop you from renting the bike there. It is recommended to use a bike rental for short trips in the surrounding Litomysl area if you fancy such romantic way of exploring this attractive piece of land. View more Trips Around Litomysl or Tours in Litomysl Surroundings.
If interested in renting a motorbike, please send us your enquiry at helpdesk@smetanaoperafestival.com.